Short, medium, long, there are a multitude of collars that are distinguished mainly by their length.
But each style fits the ideal piece. For do not commit odd by choosing your necklace, here's everything you need to know…
Choker necklace
As his name easily understand, necklace neck ras is worn at the base of the neck.Less poetically called dog collar, this jewel of forty centimeters about surrounds the neck and can be decorated with a pendant. It is usually with a collar round or boat, but it can also highlight a strapless dress.
Princess necklace
Between 43 and 48 centimeters in length, this gem is somehow a generic collar, meaning that it represents one of the most frequently worn necklaces. Arriving just below the clavicle, this type of model adapts to most clothing, and turns out be an ideal accessory for everyday life. It comes in a multitude of designs and colors.
Pearl necklace
If we add a few additional centimetres to the pearl necklace, you get the necklace in pearls. It is usually worn at chest height. This type of jewelry is particularly suited to the tailors dresses or pants to which he adds a touch of class and a touch of sophistication. The pearl necklace is ideal to go to work.
Opera necklace
More known as the Saltire, this gem has been popularized by a certain Coco Chanel who had eyes only for him. For the French stylist, this simple accessory that falls at the top of the stomach can brighten up a little black dress in a unique way! Both urban and chic, this type of collar is ideal both festive atmospheres than in more formal situations.
Maxi necklace
Jewelry with a length equal to or greater than 90 cm are commonly called long necklaces necklaces or Rope. Essential symbol of the 1920s, this type of collar to give free rein to his imagination and his creativity. It is worn in its length or in several rounds for a cascade effect, it gives style to a dark outfit. But be careful to avoid overload !
Lariat necklace
It is a model without the neck closing system. This necklace lasso is mainly concerned by making a knot or by inserting one end into the ring for this purpose on the other end. There are different lengths of Lariat. The longest are usually with an evening dress to which he gives an extra elegant touch. Short version, the jewel gives a more casual style.
Bib necklace
Sometimes referred to as bib necklace, this gem can have different sizes. Depending on the model, it can clamp around neck, or go further down until you reach the chest. Materials, they also are diverse: pearls, metal, fabric… This necklace category offers many possibilities, but is usually ostentatious.
Gallery
What Is A Statement Necklace? A Quick Guide To The Various …
Source: loveyoutomorrow.com
How to Choose Necklaces to Work with Your Neckline
Source: www.insideoutstyleblog.com
Which Necklace To Wear With What Neckline
Source: cyndispivey.com
Types of necklaces and how to wear them
Source: verchelartcessoire.wordpress.com
Pairing the Perfect Necklace with Different Necklines …
Source: thechrisellefactor.com
What Jewelry to Wear with V-neck Dress
Source: www.pinterest.com
12 best images about how to wear necklaces on Pinterest …
Source: www.pinterest.com
What type of necklace should I wear with this dress?
Source: www.quora.com
What Type Of Necklace To Wear With Necklines 🙂
Source: www.trusper.com
Choosing Necklaces For Specific Necklines
Source: gunadesign-jewelry.blogspot.com
25+ Best Ideas about Neckline Necklace on Pinterest …
Source: www.pinterest.com
Tips
Source: epiphany29.com
The right Necklace for popular Necklines
Source: www.wedunit.com.au
Confused on which necklace to wear with which neckline …
Source: www.pinterest.com
How to Choose a Necklace to Work with Your Neckline …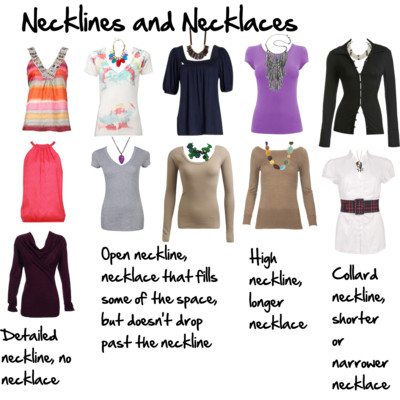 Source: www.insideoutstyleblog.com
25+ best ideas about Neckline Necklace on Pinterest …
Source: www.pinterest.com
Jewelry With Necklines: What To Wear
Source: faviana.com
What Necklace Do I Wear with Which Neckline?
Source: qstylethebook.com
A little help for choosing the right necklace for your …
Source: www.pinterest.com
Paparazzi Necklines and Necklaces
Source: shimmer-and-sparkle.com