Every woman wants to have as many accessories and jewelry as possible to make different and trendy combinations to always shine.Especially at parties and events, which demand a more detailed look and even a special hairstyle, the correct use of accessories is essential and adds more elegance to the look.
To combine the hairstyle with your jewelry, just follow some tips to not make ugly on any occasion. Follow:
1 – Half loose coke
This style of hairstyle can be used at weddings during the day, more casual parties or even at work. With it, it is possible to abuse the small earrings (no brightening for the day and brighter for the evening looks) and medium earrings, as well as maxicolares to highlight the lap. As in this hairstyle a few strands are kept loose, next to the face, it is not nice to create more volume with large earrings or maxi, which are super fashionable.
2 – Horsetail
If you have a more daring style, it pays to bet on the big earrings to highlight the face and the hairstyle. However, it all depends on the outfit you are wearing, being careful not to overload the look. The ponytails are, in general, the ideal hairstyles for the combination with tiny earrings, very close to the ear lobe. And if the earring is small, you can even combine it with a maxicolar, giving an extra highlight to the lap and upper torso.
3 – Coke all in jail
The style is similar to that of the ponytail, with the difference of being able to invest more in jewelry for the head and hair, such as crowns, tiaras and diadems, which make a more festive look and suitable for occasions such as formal social events.
4 – Hair all loose
If you've chosen to let your hair down with just a few curls or curls for a more "glamorous" look, the possibilities are endless. From small and medium earrings that are more hidden, even large earrings that stand out in the face.
It is important to note that loose hair, if it is too long, requires smaller and less glossy collars so as not to weigh the look on the upper body. In that case, invest in beautiful bracelets and rings. Loose and long hair looks great also with accessories in the hair, like crowns, for example.
5 – Half-haired hair
A classic, half-pony hairstyle looks great with medium to large earrings as long as they give delicacy and elegance to the look. It is usually used more discreet jewelry and classic formats to compose a more romantic look, and is an ideal combination for events during the day.The half-tied hair can also be a great hairstyle to highlight the maxibrincos, which are a true fashion trend.
Did you see any of our tips? Now you can make the right combinations to shine at all times. When in doubt, do not be afraid to dare, but respect your style and taste so you do not get the wrong look. Remember that when composing your look you need a dash of creativity (and also common sense) to always look beautiful.
Always use the best jewelry and special combinations, after all, you deserve it. Keep following our blog for more fashion tips and tell us: Which jewelry do you like to match with your hairstyles?
Gallery
7 Tips on How to Combine Your Jewelry with Style … Jewelry
Source: jewelry.allwomenstalk.com
1000+ images about James Avery on Pinterest
Source: www.pinterest.com
Learn to combine earrings and hairstyles!
Source: www.hair-hairstyles.com
10 Tips To Learn How French Girls Style Jewelry In Winter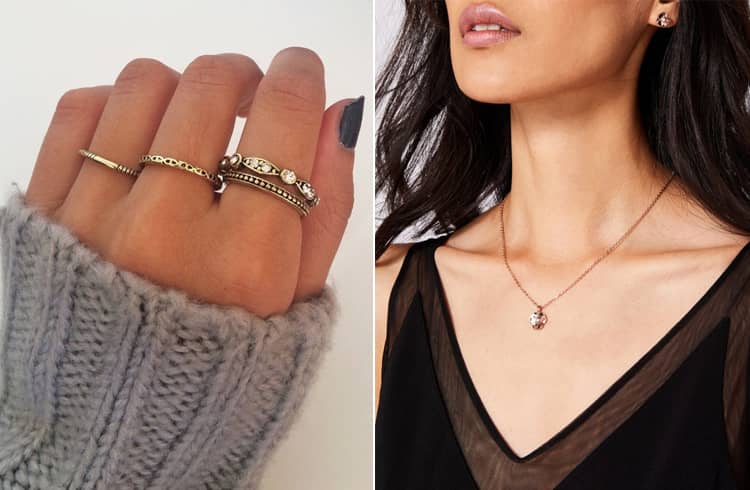 Source: www.fashionlady.in
Learn to combine earrings and hairstyles!
Source: www.hair-hairstyles.com
25 Ways to Look Effortlessly Sexy | Jewelry
Source: www.pinterest.ca
Learn How to Combine Your Watch With Your Outfit for Every …
Source: www.stachastyles.com
A blog about Miscellanea Etcetera, designer of handmade …
Source: www.pinterest.ca
Learn How to Combine Your Watch With Your Outfit for Every …
Source: www.stachastyles.com
Learn how to style your simple plain sarees with modern …
Source: www.pinterest.com.mx
JewelryLessons.com
Source: www.pinterest.com.mx
385 best images about Beads and DIY Jewelry on Pinterest
Source: www.pinterest.com
1000+ ideas about Leather Earrings on Pinterest
Source: www.pinterest.com
25+ best ideas about Neckline necklace on Pinterest
Source: www.pinterest.com
57 best Juliana Jewelry: Vintage Style images on Pinterest …
Source: www.pinterest.com
Splendid new PANDORA rings in sterling silver. Combine …
Source: www.pinterest.com
1059 melhores imagens de Cumberland Diamond Exchange …
Source: br.pinterest.com
1000+ images about Beads and DIY Jewelry on Pinterest …
Source: www.pinterest.com
New Spring Line 2013. Lets schedule your own personal …
Source: www.pinterest.se
Costco Jewelry Gold Earrings
Source: www.styleguru.org