Precious Jewelry to Support the Breast Cancer Research Foundation
The Sotheby's auction on December 5, 2012 in New York served a charitable purpose: jewelry pieces from Estée Lauder, her daughter-in-law Evelyn Lauder and Mrs. Charles Wrightsman came under the hammer.
Within the framework of the occurring several times in the year auction Magnificent Jewels auction house Sotheby's two impressive collections in the spotlight was on December 5 – together they won $ 64,77 million.
The personal pieces of jewelry and gems of Estée Lauder cosmetics icon and her daughter-in-law Evelyn H. Lauder stir. The revenue achieved with them served to support the breast cancer research foundation launched by Evelyn Lauder in 1993.
On the same day, the jewels of the passionate art collector, Mrs. Charles Wrightsman were auctioned off. The selection of more than 60 objects included contemporary designs as well as pieces of jewelry by historical ranking – above all a Diamond -studded brooch in the form of loops from the mid-19th century.
Estée and Evelyn Lauder's Jewelry At Sotheby's
Lot # 420: Luxurious Necklace with Yellow Gold Diamonds
One of the many highlights of the Sotheby's auction was a necklace made of Platinum and 18 carat gold, which achieved a price of $ 2.55 million. It is adorned by a trailer with a 47,14-karätigen Fancy Diamond , whose Farbe was classified as Fancy Intense Yellow . This gemstone is surrounded by smaller white diamonds, and the chain of Colliers itself consists of three rows of diamonds.
The Central canary-yellow gemstone was previously among the jewels of the Countess of Windsor – he crowned one of their rings.
Fondness For Fancy Diamonds: Rings with Lots in 406 and 442
Colored diamonds, the so-called fancy diamonds, were's collection by Estée and Evelyn Lauder at the heart not only in the magnificent necklace, but also in some rings from the Sotheby's. These gems are each characterised by their very good colour quality.
The yellow diamond of ring with the lot number 406 shines in a Fancy Vivid Yellow and the pink diamond ring number 442, a fancy intense pink -this intense and vibrant shades are extremely rare and highly sought after.
Both rings were auctioned off at top prices, for those with the Pink diamonds were paid$ 8.6 million for those with the yellow diamonds $ 3.89 million.
Mrs. Charles Wrightsmans Juwel Collection At Sotheby's
Diamond brooch by illustrious owners: lot number 380 at Sotheby's
The centerpiece among the jewels of Mrs. Charles Wrightsman represents a historic brooch made of gold and silver that forms the shape of a double loop. The Ribbon is occupied by a middle row of large diamonds, which are laterally flanked by smaller diamonds. It's a piece of jewelry that was created around the year 1850 in Imperial Russia. This is reflected also in the form of diamonds – they are designed drop cut, old-cut and rose cut.
The old-cut is a precursor of the now popular brilliant cut, first developed in 1910. It differs from the latter by its less perfect preparation and the fact that he still not optimally brings out the sparkle of gems of the.
The rose cut, which is characterized by its flat bottom and its pyramid-shaped faceted Crown is considered to be one of the oldest diamond polishing. While he initially served as a standard cut for diamonds, he was later mainly used for very small gems.
The brooch, found itself temporarily in the possession of the Russian Grand Duchess Elena Vladimirovna – a granddaughter of Tsar Alexander II – and later by her daughter, the Princess Marina, Countess of Kent. The latter wore the gem among others at the coronation of Queen Elizabeth II in 1953.
Lot # 339: a Ruby, Diamond and Email Brooch
Around the year 1870 was a colourful and imaginative brooch made of Gold and silver, which was decorated with diamonds, rubies, and with the help of email technology – she could be auctioned at Sotheby's. It consists of two flowers, whose Blüten are made of rubies, which are arranged around a central diamond. The rubies in turn are in turn enriched by small diamonds. The petals are composed of green email and diamonds.
As for the Russian brooch prevailing old-cut and rose cut diamond forms are also.
Oriental Inspired Jewelry By the Beginning of the 20th Century: Sotheby's Lot Number 376
A piece of jewelry that was auctioned at Sotheby's, was built around the year 1910 – during the transitional period of the style of the Belle Epoque and to the newly emerging Art Déco. It served as jewelry for corsets. Loop and ring motifs were popular, previously at this kind of jewelry piece so the trend went more Oriental motifs. So, the design of this brooch is based on a Lotus Flower, a motif that is very widespread in the Eastern countries.
What is on this piece of jewellery also observe, is the increasing trend towards more compact and straighter forms in comparison to the previous large ornaments.
The piece of jewelry made of Platinum with pearls and diamonds was sold at auction on December 5 for $ 2.04 million.
Lot # 378 at Sotheby's: exquisite diamond necklaces
A very luxurious piece of jewelry was also behind the lot number 378. A double row diamond necklace – with a total of 63 gems in the old European diamond cut. Every single one of them is surrounded by smaller diamonds, rose cut.
High quality jewelry in an individual design by RENESIM
The Sotheby's conducted auction Magnificent Jewels was once again a welcome opportunity to admire outstanding gems, imaginative jewelry designs and craftsmanship of the highest standard.
At the online jeweler RENESIM we are committed to the goal, to procure the best gems for our customers and to make pieces of jewellery, which meet their personal needs. You can here see on a selection of masterpieces made by RENESIM: masterpieces of RENESIM.
If you are interested in an individual preparation, you can have this request without obligation by email or telephone our service team for advice.
Gallery
IH SOTHEBY'S MAGNIFICENT JEWELS & DIAMONDS GENEVA 5/18/05 …
Source: auctioncatalogs.com
Sotheby's Magnificent Jewels Geneva 5/17/07 Sale 0703 …
Source: auctioncatalogs.com
so Sotheby's MAGNIFICENT JEWELS St Moritz 2/20/97 Code …
Source: auctioncatalogs.com
so Sotheby's MAGNIFICENT JEWELS St. Moritz 2/18-19/1994 …
Source: auctioncatalogs.com
Sothebys Magnificent Jewels | Diamond Dream Jewelers
Source: diamonddreamjewelers.com
SOTHEBYS MAGNIFICENT JEWELS NEW YORK 4/29/14 SALE CODE NO …
Source: auctioncatalogs.com
Sotheby's Magnificent Jewels and Noble Jewels Geneva 5/12 …
Source: auctioncatalogs.com
SO-AA Sotheby's Magnificent Jewels St. Moritz 2/24/01 Sale …
Source: auctioncatalogs.com
Magnificent Jewels Including Property From the Collection …
Source: www.sothebys.com
Sotheby's Magnificent Jewels and Noble Jewels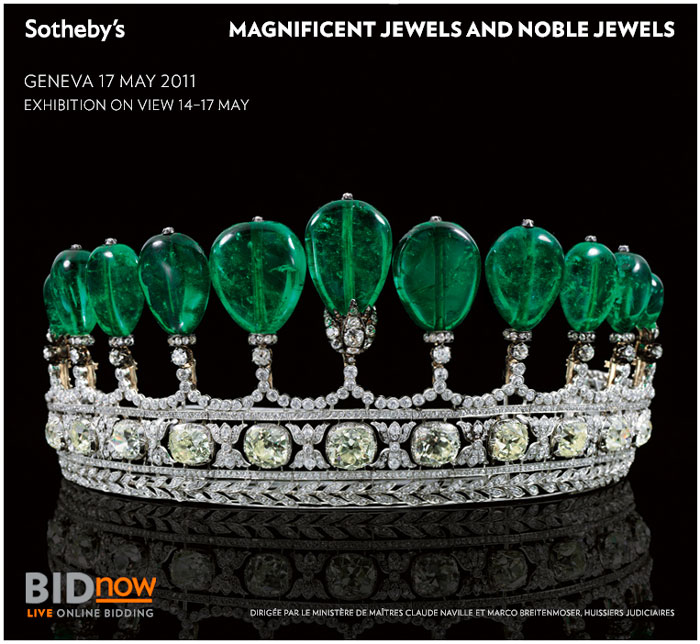 Source: blog.antiques.com
SO-AA SOTHEBYS GENEVA MAGNIFICENT & NOBLE JEWELS 11/12/14 …
Source: auctioncatalogs.com
SO-AA Sotheby's Magnificent Jewels St. Moritz 2/21/97 Sale …
Source: auctioncatalogs.com
IH SOTHEBYS MAGNIFICENT JEWELS AND JADEITE HONG KONG 4/26 …
Source: auctioncatalogs.com
SO Sotheby's Geneva Magnificent Jewels 5/18/04
Source: auctioncatalogs.com
New Focus On
Source: www.newfocuson.com
IH Sotheby's Magnificent Jewels St. Moritz 2/14/06 Sale …
Source: auctioncatalogs.com
IH Sotheby's Magnificent Jewels New York 10/29/97 Sale …
Source: auctioncatalogs.com
IH Sotheby's Magnificent Jewels and Jadeite Hong Kong 10/8 …
Source: auctioncatalogs.com
IH Sotheby's MAGNIFICENT JEWELS, GENEVA, 11/15/00 SALE …
Source: auctioncatalogs.com
SO Sotheby's Magnificent Jewels, Hong Kong, 5/3/00 SALE …
Source: auctioncatalogs.com